The DuQu Lounge is an excellent restaurant in Kempen, Germany offering sushi, curries and other Asian dishes.  The restaurant offers indoor and outside seating.  They are open for lunch and dinner seven days a week.
Friends of ours had visited this restaurant shortly after it opened and told us how good the sushi was.  We made a plan to go back to the restaurant together.  The sushi is excellent.  We also ordered some summer rolls with their homemade seiden tofu.  Wow, were they ever good – very fresh and served with a nice dipping sauce.  The homemade seiden tofu is delicious.
We liked it so much we decided to order two sushi dinners as take-out the following week.  Everything was very fresh and the sushi was beautifully prepared.  The following week we opted for take-out once again.  This time we ordered two different curry dishes and an order of summer rolls with their homemade seiden tofu.  Both of the curry dishes were really delicious with their rich and savory sauces.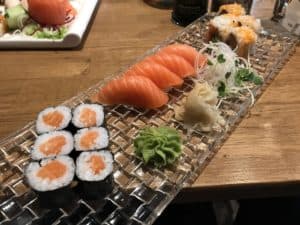 A few weeks later, my wife suggested that we go there for lunch.  Their lunch menu has many delicious options.  We both decided on the same curry dish which was served with jasmine rice.  It was excellent and the portion size was perfect for a lunch time meal.
I highly recommend the DuQu Lounge if you are visiting Kempen, Germany.  Their friendly staff will greet you with a smile and provide you with excellent service.  Their chefs will delight your pallet with their beautifully prepared sushi, curries and other Asian dishes.
DuQu Lounge Sushi & More
Buttermarkt 9 47906 Kempen Germany Telephone: +49 2152 994 8343 Hours: Monday to Saturday 12:00 – 15:00, 17:00 – 22:00, Sundays & Holidays 12:00 – 21:00 Website:
http://www.du-qu-de